Buy Professionally Graded Andruw Jones Rookie Cards on eBay
The Curaçaoan star center-fielder, Andruw Jones, will be on the ballot again in 2020 looking for induction into the Hall of Fame.
One of the greatest outfielders of all-time, he will be remembered for his amazing run of Gold Gloves from 1998 through 2007 and the legendary Braves teams he was a part of.
Andruw Jones Rookie Year Stats: 153 games | .231 BA | 18 HR | 70 RBIs | 20 SB
Andruw Jones' talent was recognized early and he was signed in 1993 at the age of 16. Jones would go on to make his MLB debut at just age 19. Later that season he becomes the youngest player to ever homer in a postseason game and just the second player to homer in his second World Series at-bat.
Trending:
20 Tips to Maximizing Rookie Card Profits
Best Derek Jeter Rookie Card Investments
Ultimate Guide: How Much Should I Invest In Sports Cards?
Top 50 Michael Jordan Rookie Cards
Best Kevin Durant Rookie Cards
Must Read: Best Sports Cards To Buy Now
While Jones' bat is nothing to scoff at, the glove is what he is best known for. Jones is widely considered to be the greatest defensive outfielder of all-time based on almost every advanced defensive metric. A hall of fame induction only seems inevitable as his vote percentage has grown every year he's been on the ballot.
Best Andruw Jones Rookie Cards
Let's break down the best Andruw Jones baseball cards to potential pickup for your collection/portfolio.
1995 Bowman's Best Refractor RC #7
If you're looking for the pièce de résistance of Andruw Jones cards then look no further. This is widely considered to be his best and most valuable card.
One of a few different Andruw Jones rookie cards, this one stands above the rest. The signature Bowman's Best chrome finish just looks so good with the blue refractor. Not to mention the picture is a close up of Jones looking casual with a Braves logo behind him.
thIS CARD is without a doubt the best looking Andruw Jones card. THIS CARD is readily available and can be picked up for a reasonable price. When his plaque goes up in cooperstown i expect this card's value to boom.
The Blue Refractor on this card is absolutely gorgeous, but that also makes it much more expensive than the base version. If the larger price tag on the blue refractor version is too much just go with the base chrome version. It is still a great looking card and should hold its value well over time. Not to mention it can be had for cheap considering his resume.
1995 Bowman RC #23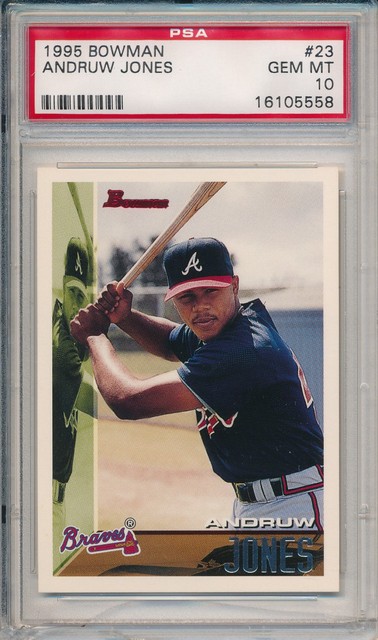 The second best card of Andruw Jones happens to also be his second-best rookie card. This 1995 Bowman flagship version of his rookie card features Jones donning a Braves uniform in a batting stance with a silhouette of the same image on the left.
The cube style design of this card is interesting, to say the least, but Andruw Jones' name in the bottom right is very visible along with the Braves logo. If you are more of a fan of base rookies then this may be the card for you.
Considered the second best Andruw Jones rookie card, this is the base version of his Bowman's best card. Picking one of these up in good condition can be a challenge but high graded versions of this card sell for a pretty penny.
Much like his Bowman's Best this rookie card will hold its value well, especially in a graded version. As Jones continues to make a push for the Hall of Fame, I expect the value of this card to push with it. A raw version of this card can still be picked up for cheap.
1997 Upper Deck Collector's Choice RC #1

Jone's third-best rookie comes from Upper Deck's 1997 Collector's Choice set. The card features an old school border with an image of a young Jones in his batting stance. The red border complements the Braves uniform really well and makes for a nice color match.
If you're looking for just a simple nice-looking Jones rookie card this might be the one for you. Produced at the tail end of the junk wax era this card is still readily available to any collector who seeks it out.
a cheaper option for a jones rookie card, this is a great option for someone on a budget. The card still has a good long term outlook and is a classic upper deck piece from the 1990s.
There are few better options to pickup an Andruw Jones rookie card than this one here. If you collect Upper Deck this is a must for your collection. The price on this is only so low because it was overproduced but it is still hard to find one of these in a high grade. That would be the way to go if you're looking to invest in this card.
Checklist
1995 Best Rookie Card
1995 Topps #435
1995 Bowman's Best #7
1995 Bowman #23
1996 Bowman's Best #91
1996 Score #310
1997 Donruss #20
1997 Upper Deck Rookie #1
1997 Upper Deck Star Rookies #240
1998 Leaf Rookies & Stars #38
Andruw Jones Rookie Card Value
The most expensive Andruw Jones rookie card sold to date is this 1995 Bowman's Best Blue Refractor. It regularly sells in the range of $150-$300 if graded 9-10. Jones has cards that have sold for more, but those cards are not really rookies and they are extremely rare such as autographs and low numbered parallels.
If you are looking to purchase an Andruw Jones RC but need advice please email us at advice@goldcardauctions.com or hit us up on Facebook.
Investment Outlook
Investment Rating: Buy (3.8 out of 5)
Ownership Disclosure: None
Andruw Jones is an all-time legend of the game. This is due to him being arguably the greatest defensive outfielder in baseball history and a large threat with the bat. Jones played a big role in the dominance of the Braves in the 1990s.
The Hall of Fame Committee's hesitation to put him in the Hall of Fame is a bit confusing, but his percentage is steadily rising. When all is said and done at the end of the 10 year time period to be inducted I think we will see his name called.
Jones had a long and successful career in the MLB and the accolades to back it up. At a young age, Jones entered the league and immediately made his mark. Not only that, but he brought the MLB's attention to his small home-island of Curaçaoa leading the way for players like Kenley Jansen and Andrelton Simmons.
There have been few better times to invest in Andruw Jones. High-value cards are still relatively cheap, Hall of Fame induction is inevitable, and Jones is a well-recognized player. All of those are positive signs which means that the long-term and short-term outlook is good. This is a dynamic investment because once he is inducted it can be quickly flipped for a profit or held for long-term growth.