For the 2021 release of Heritage, Topps is throwing it back to the era of The Godfather, Watergate, and the first broadway run of Grease.
Related: 2023 Topps Series 1 Baseball Cards | 10 Best Cards 2020 Topps Series 2 Variations and Checklist | 10 Best 1998 Topps Baseball Cards To Buy Now
That's right; the famously funky 1972 design is back. Bright colors and bursting team names make a return. Releasing on March 17, 2021, one of Topp's flagship releases, Heritage, again brings modern players to vintage cards. This set was created with nostalgia at the center and set builders in mind. That idea is reinforced by the design of the checklist.
Buy 2021 Topps Heritage Case on eBay
2021 Topps Heritage: The Basics
The main set is a whopping 500 cards, a mixture of many players, old and new. The checklist breaks down even further to be 400 base cards and 100 short prints (1:3 packs). There is a player for every kind of fan here and that has long been the draw to this product.
Hobby boxes for the 2021 release guarantee collectors a measly one autograph or relic card per box. Aside from the one hit the only other thing guaranteed is, on average, three short prints. Each box comes with a total of 216 cards in the way of 24 packs of nine cards
A hobby box of 2021 Heritage will run collectors only about $115. With a total of 216 cards in 24 packs that breaks down to be about $4.80 per pack and $0.53 per card.
Buy 2021 Topps Heritage Baseball Card Hobby Box on eBay
2021 Topps Heritage Design
Heritage's design makes it one of the most anticipated releases of the year. The design for these cards is always a throwback design revisited. For this year, they went with Topps' 1972 look.
This design features the bursting team names in a sort of gravestone shape with popping bright colors reflecting team colors. There are also many parallels of these cards to collect as well.
2021 Topps Heritage Base Set
As mentioned previously, the base set comprises 500 cards, with 400 being base and 100 being short prints. While the checklist is big, the number of cards you get per hobby box is also big. The checklist comprises big stars like Nolan Arenado and young promising players like Fernando Tatis Jr.
The "hits" are not what this set is all about. While you get one autograph or relic per box, this series is mostly about set-building and the many parallels, variations, and chrome inserts.
The base card parallels/variations are as follows:
Action Image Variation
Nickname Variation
Throwback Variation
Short Print Variations: 1 in 3 packs
Black Border: 50 copies of each
Flip Stock: 5 copies of each
Mini Cards: (#/100)
Inserts
Not much is changing regarding inserts for this year's run of Heritage. Chrome inserts are still the highlight of this set and are limited to a select 100-player checklist. These chrome cards feature the same base Heritage with Topps signature Chrome finish. They have some desirable parallels that are:
Hot Box Refractor
Refractor: #/572
Black Border: #/72
Gold Border: #/5 (Hobby)
SuperFractor: 1/1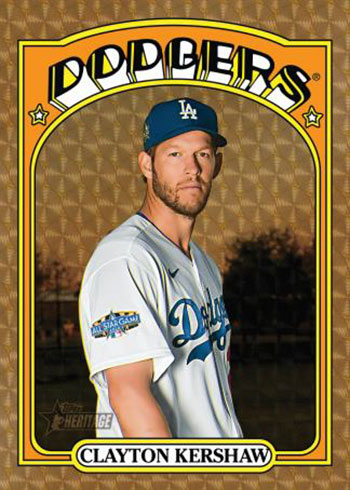 The rest of the inserts in this set are primarily similar to that of the years past. The normals, such as Baseball Flashbacks and News Flashbacks, are back and showcase action from 1972. New Age Performers identifies 25 current stars that have surpassed all-time great players. The final returning insert is Then and Now. There are also 1972 Topps Baseball Originals. This buyback series features original 1972 Topps cards with an added foil stamp. There is one new insert with, The Great One. This 21-card set is designed to commemorate the late legend Roberto Clemente.
Box-Toppers
Box toppers will once again continue the tradition in hobby boxes. These box toppers can be found in 1:2 hobby boxes of Heritage and feature 50 players with oversized cards limited to 1,000 copies a piece. Box top design is based off of the original Topps 1972 posters. Hard-signed box toppers (#/25) are also to be found.
Autographs
The one hit you get per box are some of the most desirable of the year. A familiar set returns in the Real One Autograph line. This line is notorious for on-card autos of current and former players. In addition, there are other auto sets, including Real One Special Edition, hand-numbered to 72 and signed in red ink, hand-numbered Real One Dual Autographs (#/25 or less) and Real One Triple Autographs (#/5) cards. Finally, the tough autos in this set are one-of-one 1972 Baseball Cut Signatures and 1972 Celebrity Cut Signatures.
There will also be a special Rangers Inaugural Season Autographs. This set celebrates the 1972 Inaugural season of the Texas Rangers franchise. All autographed cards in the set are capped at 100 copies and features players from the debut season.
Relics
There are a few ways of obtaining relic cards in Heritage this year. Clubhouse Collection Relic will be the main line of just relics. Beyond the main game-used uniform or bat set that were featured in last year's Heritage, there are Dual (#/72), Triple (#/25) and Quad (#/10) relic cards. There is also hobby-exclusive one-of-one Patch parallels. In addition, the Single-Player Relic series adds a gold parallel (#/99).
Also in Heritage this year are auto relics. Clubhouse Collection Autograph Relics (#/25), Clubhouse Collection Dual Autograph Relics (#/10) and Flashbacks Autographed Relics are where they can be found. There is also one-of-one Patch parallels in the set.
Buyer's Guide
Overview:
What to expect in a hobby box:
216 cards, 24 packs, nine cards per pack
Hits – 1 (relic, autograph, or autograph relic)
Short Prints – 3
Final Review
Some things never change. That saying especially rings true regarding one of Topps signature releases, Heritage. There is not much that is truly new this year in Heritage; it is just more of the same. If you were already a fan of Heritage, you will feel right at home here. The 1972 design isn't one that we are not particularly crazy about, but it is still nice looking and a welcome change from the very modern-looking flagship set. The positives of this box are the number of cards you get and the hobby exclusives you can find at the price point.
The downside to this product is pretty glaring, the measly one hit. Most collectors would gladly exchange 100 base cards if it meant getting another hit from a sweet checklist that is some of the year's most desirable cards. Also, more parallels for base cards would also be preferred instead of so many variations. If you're going to buy this product just be prepared for a lot of common.
Buy Rating: Pass (2.5 out of 5)
Bottom Line: If you are a set builder or already a Heritage fan this is the box for you. The low price point and the high volume of cards make it the ideal box to buy. However, one hit is extremely disappointing and will leave you feeling like you just paid for a box of someone's commons. This is not for you if you want a box with lots of shiny cards and autographs.